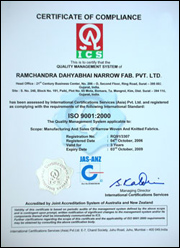 Our ultimate aim is to provide quality elastic tapes that completely satisfy customer's expectations and requirements. For us quality is necessary to not just attract customers but also to maintain our position in the market. We believe that quality should not be compromised and it should be maintained in each and every stage of production. The products are checked at every level to ensure they are in conformation with the international standards. Our products leave an eternal mark on the hearts of our customers as we provide quality products at reasonable prices.



Timely delivery with personal attention.




Continual improvement in quality management system.




Involving all employees with P-D-C-A cycle.